TCEDA's Build it * Grow it program had another successful year. An average of five businesses that participated in the program increased their business sales by $315,000 in the first three quarters of 2016.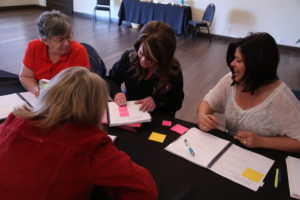 Based on positive survey feedback, we will be hosting the program in two locations in 2017.
Sessions in Warren, Illinois, will be held on the 2nd Thursday of the month at the Warren Community Building, 110 W Main Street, Warren, IL. Elizabeth, Illinois, sessions will be held the 4th Thursday of the month at Village of Elizabeth Board Room, 310 N. West Street, Elizabeth, IL. These educational sessions are free to TCEDA members, and are open to the public for $30.00 per person, per session in Elizabeth and at no charge for the Warren sessions.
Topics for the sessions in Elizabeth, Illinois:
June 22: Sales skills and how to close the sale
July 27: Hiring and contracting using tools like Strength Finders and Judgement Index / Managing your team.
August 24: Entrepreneurial open forum / Guest speaker
September 28: Quickbooks overview with tips
October 26: Revisit Growth Wheel with handouts / articles
Topics for the sessions in Warren, Illinois:
July 13: 3rd Discipline of Marketing
August 10: Entrepreneurial open forum / Guest Speaker
September 14: 4th Discipline of Marketing
October 12: 5th Discipline of Marketing
Lunch and Learn, Clinton, Iowa:
June 14: Introduction to the GrowthWheel, which gives you a 360-degree perspective on your business and how to move from spinning your wheels to profitability.
Save