The GrowthWheel is our preferred program for one-to-one business consulting. It contains five tools that take business conversations beyond thinking and talking into making things happen.
GrowthWheel Frameworks are like maps. When laid out on a meeting table they give you a powerful image of where you are and where you could be going.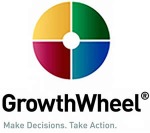 GrowthWheel Articles is a library of 3-page articles dealing with different issues within 20 focus areas.
GrowthWheel Decision Sheets contain graphic checklists to help entrepreneurs make decisions more quickly. They are like the whiteboard in the conference room that help you focus on decisions and the next steps.
The 30-60-90 Action Plan is a master plan broken down into categories and actions. It helps plan your actions for the next three months and beyond, keeping you focused on what needs to be done and who should do it.
The 360 Degree Screening Tool is a visual scoreboard of how the business is doing and where are the future growth opportunities and obstacles.
If you want to take your business to the next level, these are the tools that will get you there. Contact Brian McIntyre at bmcintyre@thames-venture.com.